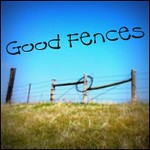 I have survived another week of heat. Thankful for a little breeze to help some. Cool or hot makes no difference when you can see the amazing sights at http://run-a-roundranch.blogspot.com
Stop by and say hello to TexWisGirl.


This is a painting I saw and thought of Good Fences.
A good representative of Texas fences.