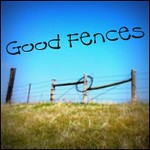 So happy to be sharing time with Theresa and all her fence friends. It is amazing how interesting a fence can be. Check them at http://run-a-roundranch.blogspot.com


In this area, some of the houses seem to have acres of white fences. I did not see them when I took this, but at times you can see horses around.
This was an eye catcher for me. Vintage and new work together very well.