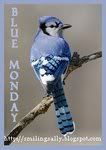 Today's Blue Monday with Sally may not leave you smiling. It involves a lot of sorrow and how the families have handled it. It may be hard to find at times, but good can be found even in the darkest hour. Click Sally's button for other blues.
Several years ago, a nineteen year old girl was murdered in this area. She was on her way to work when attacked and killed by two co-workers. Some of you from around here will remember it very well. As a result of this incident, it is amazing how so many families from everywhere have come together and formed a memorial park. I had not seen it until recently.
The family of the girl placed a single, white, wooden cross where she was murdered. Sometime later, another person was murdered and another white cross was placed. Slowly, the park was filled with many white crosses of other murdered victims. This was the beginning of "Our Garden of Angels" memorial.
This is the first and only homicide memorial park in the United States.
A plaque has been mounted and states:
"The Garden of Angels is not a place of death but a place representing life. Love radiates from these very surroundings filling the night with wonderful happy memories of a time when these voices spoke with laughter and joy"
There were a lot of blue flowers.