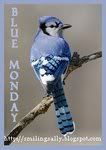 How fast these Mondays are rolling around. It is time again for us to stop by and see if Sally is ready for the holidays. Also, when you stop by http://smilingsally.blogspot.com many different, holiday blues you will see.


One of the many Christmas decorations in downtown Fort Worth.
This interesting sight caught my eye while surfing the internet.